We are happy to introduce a new look of the Webix forum to our customers.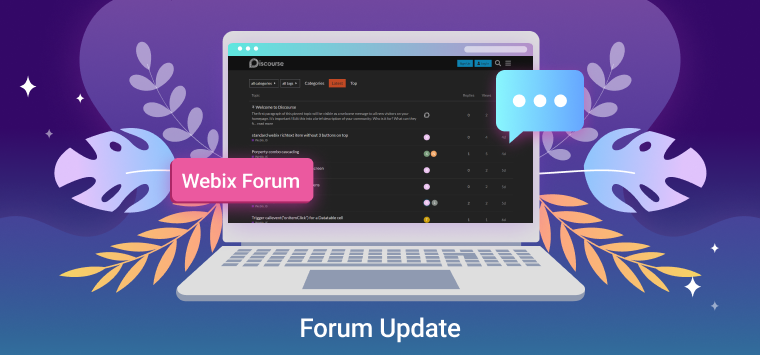 Webix is trying to stay in tune with the modern trends, so the forum is now in stylish black mode. The "Sign Up" and "Log In" buttons have moved to the right upper corner closer to the search and menu icons. There are dropdown lists with the categories and tags. A convenient search for tags is added.
There are three tabs at the top:

• In the tab "Categories" the questions are grouped according to their categories.

• The tab "Latest" displays the most recent activities.

• The tab "Top" includes the questions with the most numbers of replies grouped in descending order.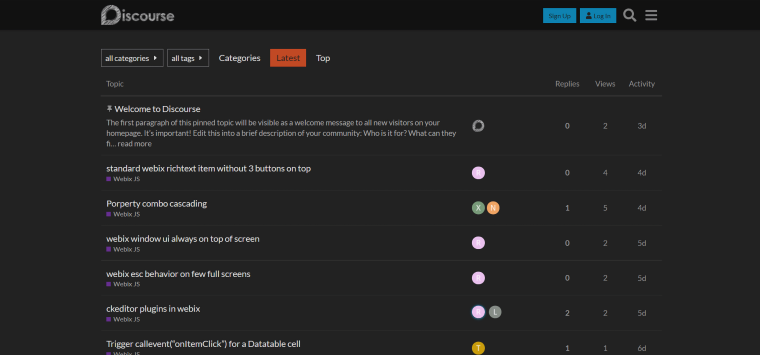 The possibility to filter the questions according to time periods has been added. You can now group questions and related replies that were discussed during a year, quarter, month, week, and today. Besides, the questions can be grouped in either descending or ascending order by the number of replies, views, or the date of the most recent activity.
There is a possibility to see who replied to the questions. By clicking on the circles of the technical support specialists, you will find the information about the specialist, the time of activity on the forum, the number of created topics and posts, the likes given to them.
In general, the forum has become modern and user-friendly. Likes and smiles add to user satisfaction. We are trying our best, as we want our customers to have a great experience of using our library. And we are always ready to improve.
Sincerely yours,
Webix team