Today we are talking with one of our customers in Latin America. Marco Caldas Cruz (LinkedIn profile) is a business consultant and a software developer with a great experience. Currently, Marco is a partner of huge auditing and consulting company BDO and a developer team leader at Goldenbelt platform. Marco has kindly agreed to share his experience with us.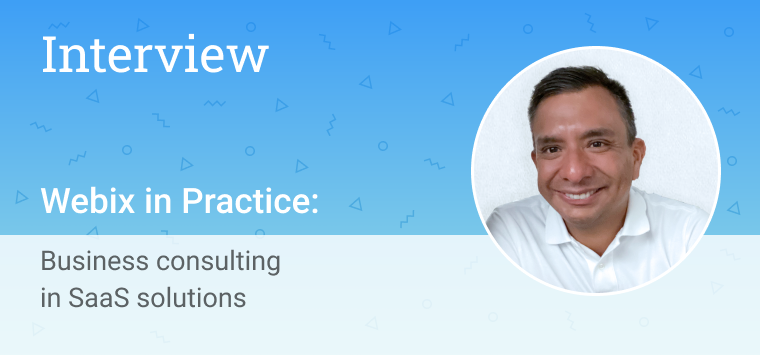 Hello Marco! Please, tell us a little about your career.
My name is Marco Caldas Cruz. I studied Systems Engineering at the Pontifical Catholic University of Peru. I have a Master's degree in business (MBA) from the School of Senior Management of the University of Piura, Peru. Besides, I have certifications in data analytics, project management, ERP's, organizational issues. I worked at Microsoft and Oracle in Peru. I have been a business consultant for more than 25 years already. I am currently a partner of auditing and consulting company BDO in Peru and a partner of ProNetwork. It is the company that owns the Goldenbelt Platform.
What is the business domain you work at?
ProNetwork is the developer company of Goldenbelt platform. Goldenbelt is a process management solution (SaaS) that allows companies to integrate information of processes and activities flowcharts, linking them with other company information entities, such as the roles and job descriptions of the positions, documents and policies, risks and controls, audit and process requests based on workflows. Goldenbelt has 10,000 users. We have 60 clients. I am a partner and a developer team leader, too.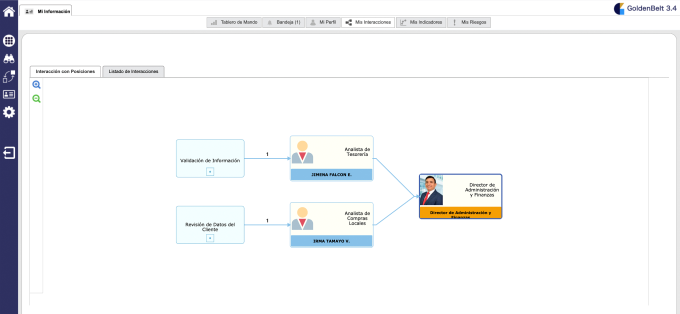 How serious is the competition?
In the process dimension, our competitor is Blueworks of IBM. But we have a lot of other competitors. For example, Microsoft Sharepoint, Docuware in the Document Module. Microsoft Visio, SAP Success Factor in the Organizational Module. In the Risk and Audit Module, Teammate and SoftExpert. We have all of the company's information stored and available in the same place for all users. Despite the competition, the company is planning to expand to Latin America. After that, the world. The solution works in any company environment.
We wish you good luck with your plans! How does the Covid pandemic influence your business?
The company had to transform its operation. The virtual operation has allowed the use of solutions like Goldenbelt. Goldenbelt is a cloud solution. All company information is available 24/7 to any employee. The employees can see their information, their processes, their functions, their documents, as well as shared documents, their policies.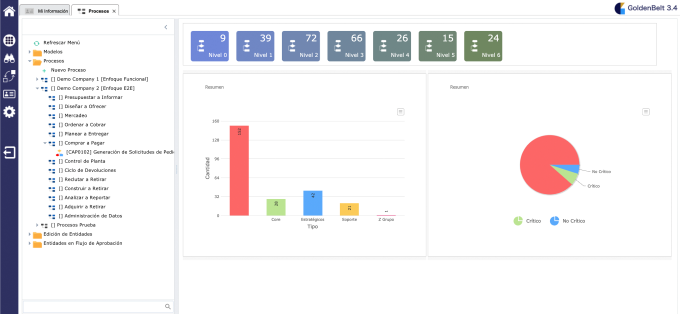 Tell us about your Webix experience. How did you get to know Webix? What are the reasons you are using it?
I was looking for solutions on the web. I reviewed Webix and bought the license immediately. We needed a Treeview component that could be faster than the previous solution because we had a lot of records in the tree. Webix is very very fast! Besides, it was incredible how short the code was to get the integration with our solution. The documentation is very useful. It has all the needed details to become an expert. The samples are very didactic. So, I decided to buy it. The sales support was very quick.
Where do you use Webix?
Inside our platform, Goldenbelt.
Which complex widgets do you use?
Currently, it is Gantt.
What were the difficulties with Webix (compatibility issues, technical support)?
There are basic principles that users should be aware of to get the advantage of the Webix benefits. For example, Ajax operations or some other definitions that require careful documentation study.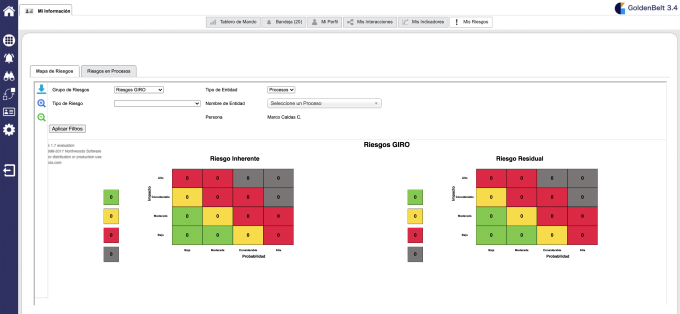 What would you like to improve in Webix?
Perhaps, to implement technical online support.
Which additional opportunities would you like to have from Webix?
I'm looking for an HTML Editor with TrackChanges (like CKEditor, MCETidy). This component is very useful and is related to our solutions.
Do you use Webix Jet?
No.
Thank you for this talk! We wish your business to be successful and profitable.
If you would like to tell us about your experience, please, do not hesitate to contact us. Our customers' feedback is the possibility for Webix to grow further.