Hey everyone!
September 22 – mark the date in your calendar, because exactly on this day we will be glad to present our new major update – Webix 3.0. As autumn is a start of a working year, we decided to start it with a big upgrade.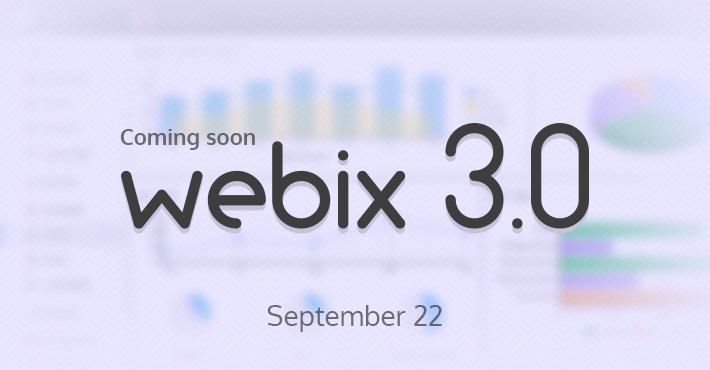 What September 22 will bring:
Webix Jet – a micro framework on top of Webix UI, which will allow you to combine and reuse all of diverse and separate UI components, and to create and develop your perfect app with minimal code footprint and without any stress.
Visual designer – a tool for creating UI by drag and drop.
New, even more powerful functionality for grids: Sub-rows, Sub-grid, Sub-form.
a) ability to show really complex data in the datatables
b) nested tables
c) master and slave data in the same table
Import/Export to PNG and Excel – no longer need to take screenshots or start separate tables. It definitely simplifies tasks' solving and saves your time.
As usual, we have something to share.
Stay tuned and see you next week!
Share it with your friends and get +3.0 to your karma!