Hey everyone!
New week, new beginning. The number of our subscribers and customers is growing, and we are certainly pleased with that. 🙂 But the more customers appear, the more questions are asked. As a result, the idea of creating a series of articles considering answers on questions related to a particular topic was born. Today we'll speak about Webix License.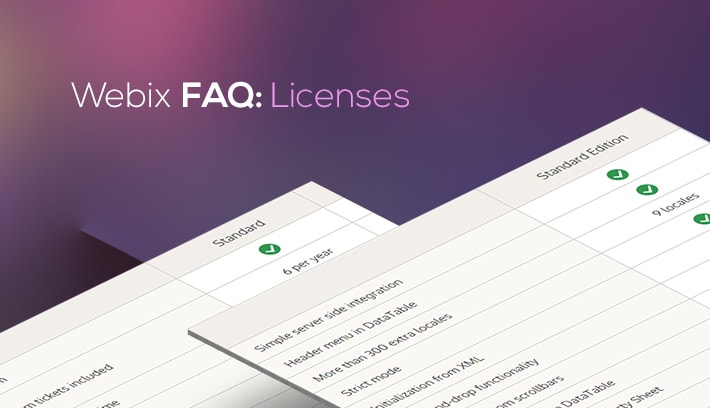 There are a couple of ways of how you can get our product:
you can download free Trial version, to start and to try our Pro Edition, which has advanced functionality, goes under Webix Developer license and can be distributed in commercial projects. You can use Webix trial version for 1 month only.;

you can download Standard Edition, which has standard functionality, goes under Open source (

GNU GPLv3

) and can't be distributed in not open source projects;

and finally, you can purchase any of our existing

licenses

, receive an email with the link, download the package and start developing.
Webix license is perpetual, and can be used in multiple projects till the end of the world. But after 1 year of using, if you don't renew the existing license, you will no longer receive Webix updates.
Most frequently asked questions:
What does "per 1 developer" mean?




It means, that only one developer can use this license. If you need Webix for a team of developers, you should buy licenses for all of them separately (depending on the number of developers we can offer discounts).

Does Webix Developer License include a PRO Webix version or a Standard one?




When you buy Webix Developer license, you get Webix Pro Edition which includes custom scrollbars and other PRO features, but without support.

Is the license permanently bound to the developer or the company?




If the company buys Webix Developer license, it is bound to the company, or to the exact email that was used when buying license. Therefore, if you want to buy the "company" license, use the corporate email.

Is it possible to buy your extensions (Pivot, Kanban or other) or Support plan separately?




Yes, if you already have a valid Developer license, you can purchase any widget or any Support plan separately at any time.

Could one developer use both Licenses – Commercial license and GPL license – at the same time for different Projects/Customers?




Yes, you can use GPL license for open source projects, and Commercial license for closed-source projects.

Is it possible to use Webix Standard Edition with Laravel (MIT license) for building a governmental (nonprofit) Intranet application? If yes, should a developer give the source (the client side source only) to everybody who asked for it ?




Surely, in accordance with our Floss License Exception you can use Webix Standard edition (under GPLv3 license) with Laravel (under MIT License). The issue concerning giving or not giving the client side source code to everybody who asks for it depends on the license that you'll choose for your product. Note that the license that you'll use for distributing your app should be included in the FLOSS list presented here:

//webix.com/legalnote/license-exception/

. (Commercial license can't be used).

Can a developer use MultiCombo or MultiSelect with free license?




We don't have a free license, but we have a GPL licensed package (while it is nearly the same as free, there are some differences). You can use any components that are included in the GPL package. This means, that you can use MultiCombo and MultiSelect widgets.

Is it possible to purchase the components separately?




Yes. Once you bought single Developer license or Webix package, you can purchase any widget or Support plan separately at any time during the term of the current license.

Is it allowed to use the Webix GPL version for UI that communicates via REST calls to a commercial backend?




Yes. It is allowed to use the GPL version of Webix in this instance. GPLv3 license is applied only to the client side without affecting the backend. You can use your server-side code under any type of license.
Major and Minor Updates
You will get notifications about major releases by email. There are no notifications about the minor releases, but we can provide an access to the page where they all are published. Currently we are releasing the major versions monthly. It may change in the future. Minor releases contain changes planned for the next public release and bug-fixes.
As before, our forum is opened for you, and we are always ready to answer your questions per e-mail. So if you have some personal questions please don't hesitate to ask.
If you are a newbie here, I would suggest you not to think much and download our Trial version.
Keep calm, stay tuned and enjoy Webix.