Throwback Thursday is here, and we are happy to present a brand-new year in review for Webix! Let's go down memory lane and sum up Webix's accomplishments from 2022 and what we are proud of.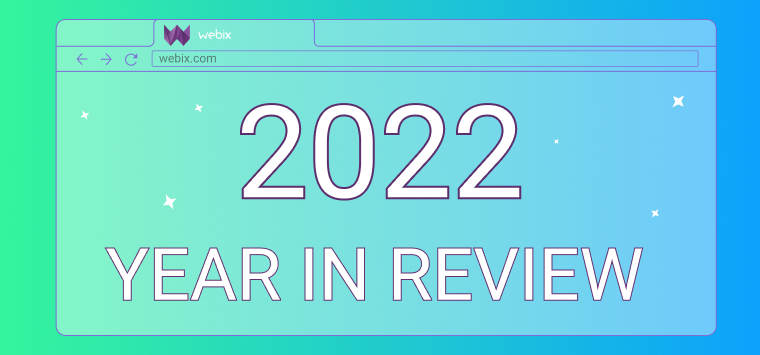 Webix releases
The first release of the year happened in March 2022 when Webix 9.2 was introduced. It brought a couple of valuable fixes and updates for the library:
Vital fixes and performance improvements were added to the library core.
Pivot, Scheduler, and Gantt got methods for clearing and reloading data.
Webix 9.3 followed immediately in April 2022. Major focus was on improving complex widgets:
The Pivot widget was boosted with four new chart types.
The Scheduler was complemented with drag-n-drop for adding new events.
Two new chart types for the SpreadSheet, plus a couple of new spark line types for better visualization.
The Report Manager got a new feature to make it easier to read the report and discover patterns in the data.
Webix 9.4 was next in the line in July 2022. The main changes included:
Introduction of 3D Donut chart.
Diagram updates included curved links for better visualization and labels for links.
SpreadSheet is able to print not only the current sheet, but any other from the dropdown list as well.
In November 2022 Webix team presented the latest Webix 10.0. The anniversary version of our library includes:
Two new complex widgets – Desktop and ToDo.
Two brand-new skins for the components of Webix core and complex widgets – Dark and Willow.
New "baseline" property for Gantt to set start date, end date and duration for the project.
The biggest enhancement to Pivot is the addition of external data processing support.
New "Hide/show print borders" button for SpreadSheet to visualize the print borders of a page.
Another crucial feature for SpreadSheet is the ability to hide sheets via UI.
You can find all the info about the latest release here.
Complex widgets
We have released two new complex widgets in 2022.
Desktop is a complex widget for creating remote desktops. With this tool, you can:
add Webix complex widgets as apps to the desktop;
add their own apps to the desktop;
launch apps from the desktop or menu;
pin apps to the desktop or taskbar;
change the layout of apps.
ToDo is a simple task manager. This widget allows you to:
create projects;
split them into separate tasks and subtasks;
assign tasks to a particular user;
set due dates.
Apps
Our team always looks for different ways to use Webix UI practically. That results in different small, but effective apps that can be quickly built by Webix users. And by "quickly" we mean even in 30 seconds! Check out how to create a Location Viewer App, a Weather App or a Budget Tracker App with Webix UI.
Interviews with customers
The Webix team gained many valuable development ideas and improved the library thanks to the useful advice we received from our clients. We talked with the IT Director of a pharmaceutical laboratory, the Software Designer of a software development company and many more. All the showcases can be found on our blog.
If you want to share your experience using Webix with the world, contact us!
2022 Webix achievements
Last, but definitely not least – we take pride in the honors awarded upon us by reliable software review sites.
We have many ideas and plans for the new year. So follow our news and stay updated.
Sincerely yours, 
Webix team