*The product is discontinued.
Our company XB Software Ltd. has recently released its own CRM system that is mostly based on the Webix library. It is a necessary tool for most sales or service-related companies that are seeking to build and maintain strong relationships with existing customers as well as to look for new ones.
Webix CRM has a user-friendly Material Design interface and allows storing a client base of any size, preserving the history of customer interactions (emails, phone calls, etc.), grouping contacts by specific categories and more.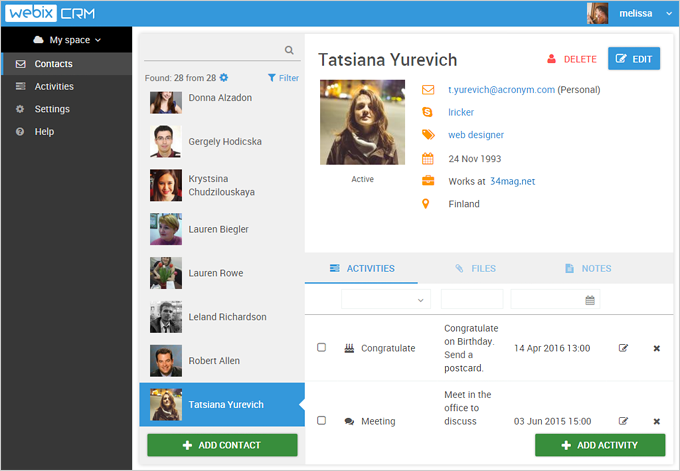 Let's learn about numerous Webix CRM functions in more detail.
All contacts in one place
First of all, this system for managing customers helps you keep all your contacts and the information related to them in one place. It simplifies working with customers and frees from using plenty of different tools for managing relations with them.
Planning Activities
Webix CRM also makes it possible to plan various activities (email, meeting, phone call, etc.) with each customer separately by using the predefined form: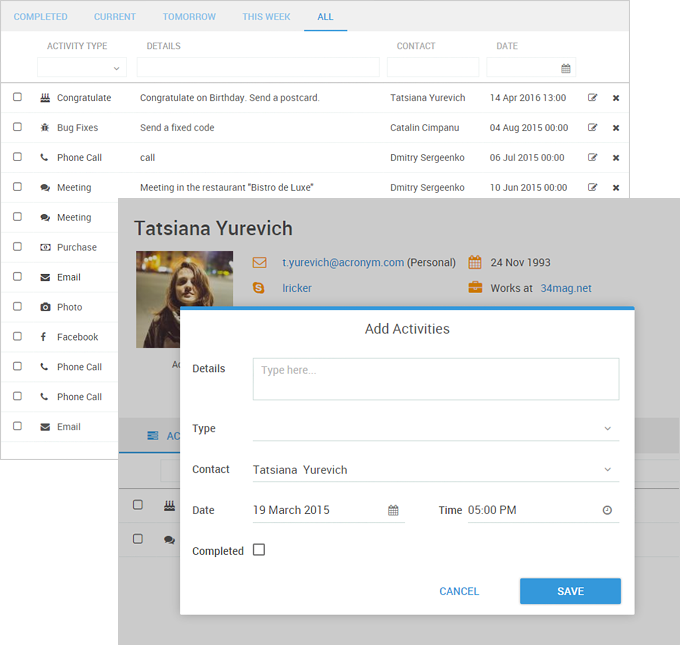 The created activities are automatically added to your activity list which helps you not to miss the deadline. If you need to find a specific activity you can use a search bar that allows seeking by the type of activity and some detailed info.
Easily Customizable
You can adjust the behaviour and look of Webix CRM in space settings. This area includes Personal Settings, Shared Spaces and Data sections.
You can set up your password, username and avatar as well as choose the necessary language in your Personal Settings.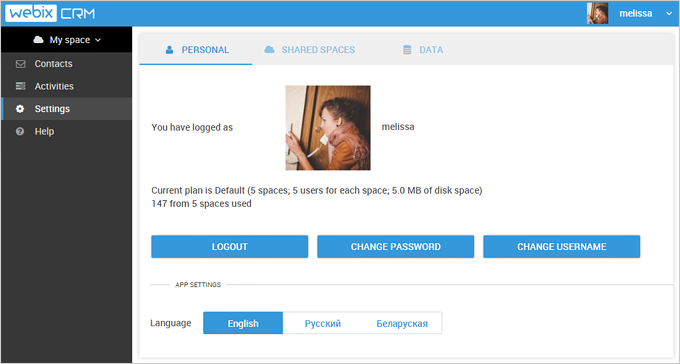 Shared Spaces allows creating your own space with listed contacts and then easily sharing it with other team members.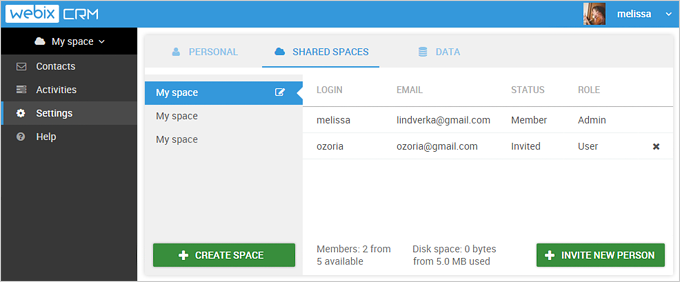 You may create new types of activities and select icons for them in the "Data" tab.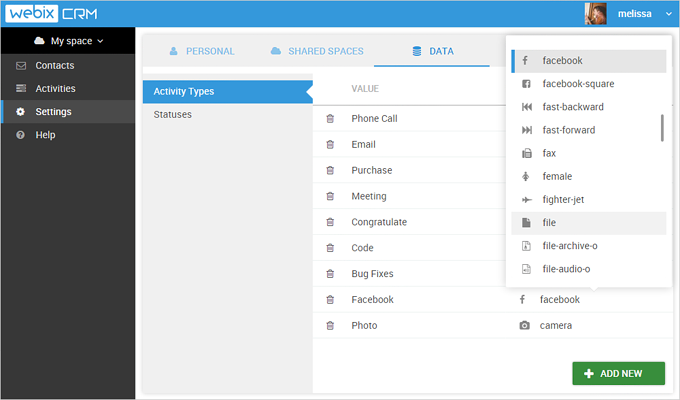 Managing Contacts
The section "Contacts" allows you to view the whole list of your contacts and look for the necessary one with the help of the search field. You can search not only by standard parameters but also thanks to using an advanced filter to find the contacts by more extended search queries. If you add tags to your contacts' data, you can easily find them by entering the appropriate hashtags in the search bar.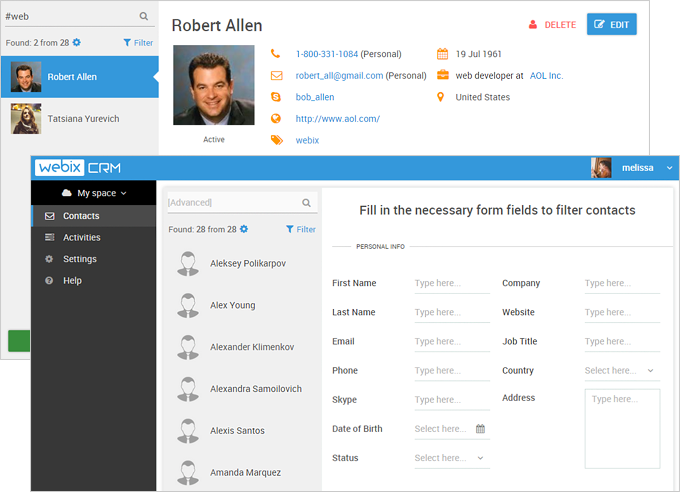 You can add new contacts or edit the existing ones, attach files, add notes and plan contact-related activities in CRM contact area.
Export and Import
One more important Webix CRM feature is exporting and importing data to and from Excel spreadsheets.
Export
To export contacts, you should:
1) choose the group of contacts
2) click on the gear icon at the top of the list
3) click on the "Export" item in the popup menu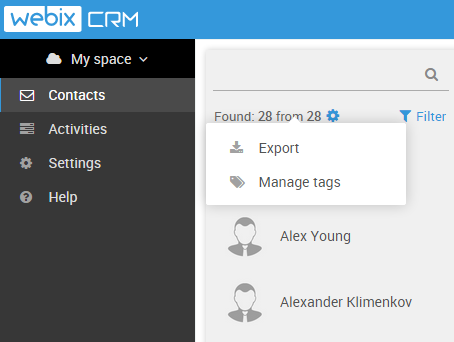 Hereupon you should see your customer data in tabular form. It is possible to control the visibility of the table columns by means of triggering Webix header context menu. You can either hide or display contact information. The data from a column that is hidden won't be exported into a final .xls file.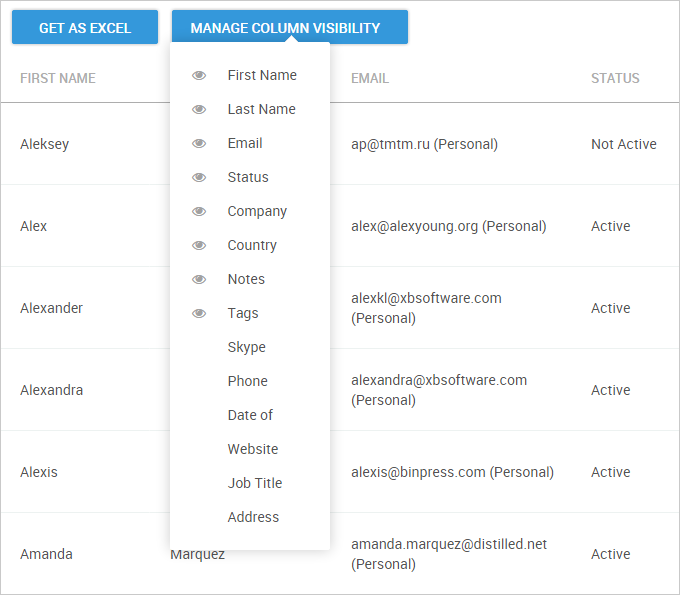 Import
To import contacts you need to click "Add contact" in the left sidebar and then click the button "Import contacts from XLS". To start the importing process you can either load your an excel file or copy and paste the necessary excel data.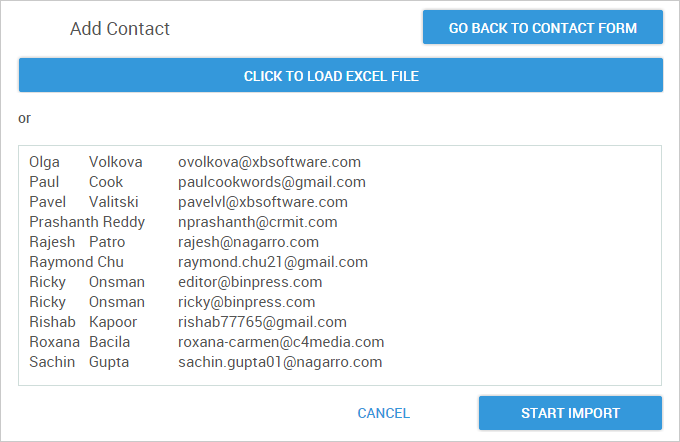 Webix CRM will divide the provided data into multiple columns, which you can name correspondingly. In addition, it is allowed to add statuses and tags to the whole imported list of contacts.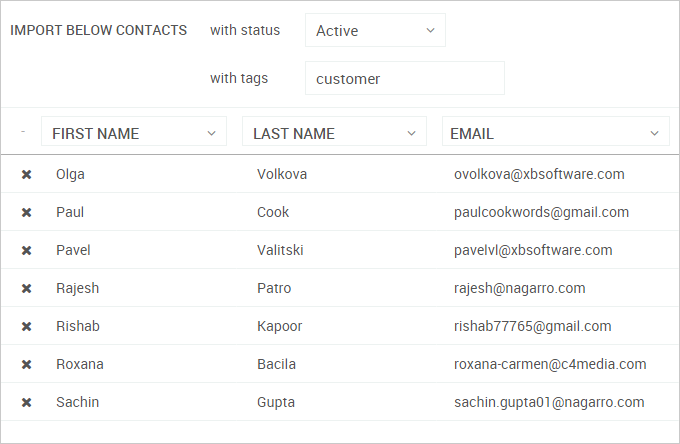 Other Features
Apart from having the basic CRM functionality, it also presents such features as usability and tablet support, that allows working with customers from anywhere with ease. In addition, Webix CRM has a Material design with a clear and clean interface that also simplifies managing contacts with this software.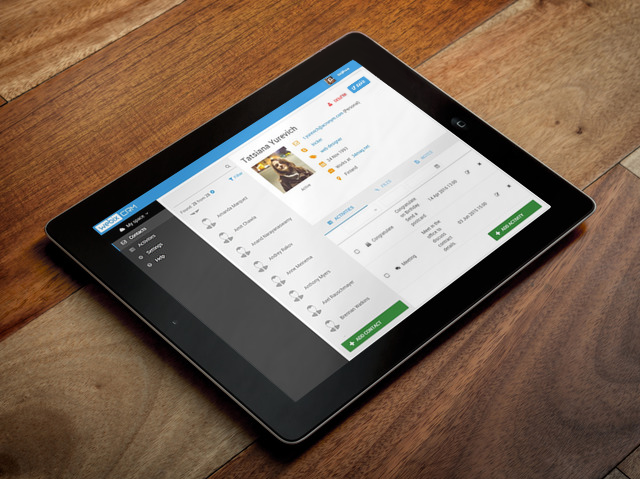 To get this feature-rich Webix CRM please follow this link.